SFIC Control Line Torque Tool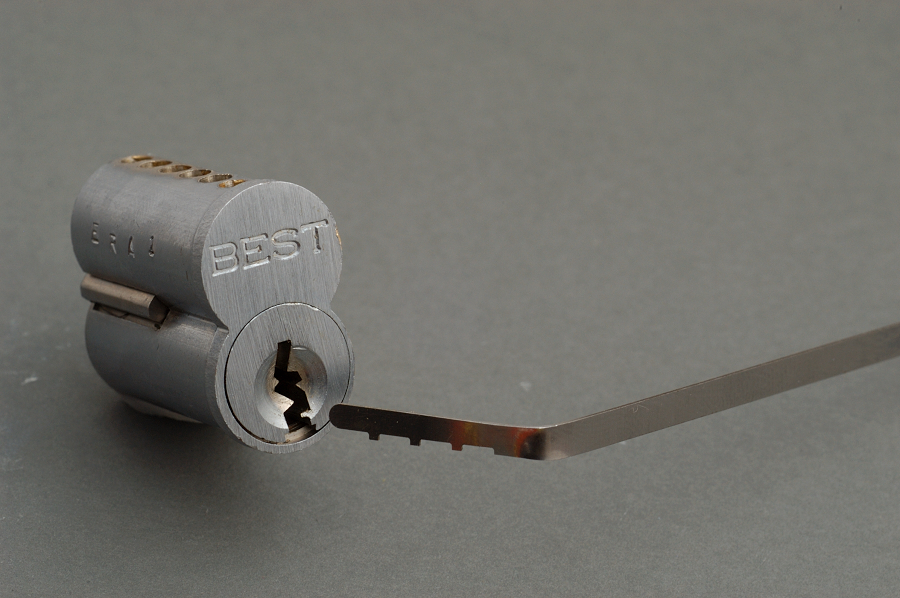 SFIC torque tool for picking to control line. This torque tool has three little "fingers" spaced to fit the holes at the bottom of the control sleeve, which effectively puts torque on the control sleeve but no shear force at the (inner) operating shear line. The fingers are long enough to engage the control sleeve but not so long that they protrude into the holes in the shell (which would prevent any rotation).

A conventional torque tool can be modified to produce this tool; commercial products are also available. Note that different thicknesses and widths are required to fit the various SFIC keyways, and shims may be required in the keyway to get a proper fit and good leverage. The only commercial maker of these tools of which I'm currently aware is Peterson Manufacturing (shown here is their "thin" SFIC tool). I believe the design was originally due to Gerry Finch.

Image taken with a Nikon D-100 digital camera with a Nikkor 85mm 1:2.8D tilt/shift macro lens (with Kenko extension tube). Lit by electronic flash and various reflectors.

Copyright © 2003 by Matt Blaze. All rights reserved. You may not copy, modify or use this image for any commercial or non-commercial purpose without permission.

This is the last SFIC photo. Click here to go back to the first.

Click here for the index of Best SFIC lock photos.

Click here for my home page.