Best SFIC Lock Cylinder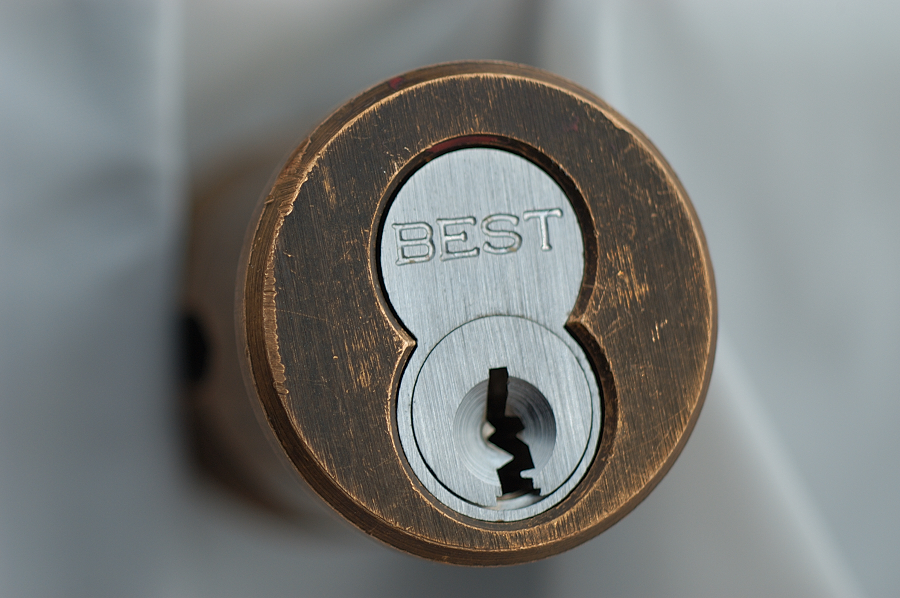 Best SFIC mortise lock cylinder. "Small Format Interchangeable Core (SFIC)" locks, first made by Best Access Systems, are popular with medium- and large- scale institutional lock users in the US. These locks offer moderate resistance against manipulation and forceful attack, support large master key systems, are of good general quality, and are available for a wide range of lock configurations. The most important feature of these cylinders, however, is the ease with which the end-user can manage them. A special control key unlocks and allows removal from the front of the lock of the core, which contains the keyway and pins. New cores can be swapped in and out in a few seconds as required, without the need for tools or special locksmithing skills. Most users keep on hand a supply of extra cores that are rotated through to support routine re-keying.

SFIC locks come in six and seven pin versions and can use the same keys for either (they are "tip stopped," so the keys for six pin locks stick out of the keyway a bit further). About 25 different keyways are commonly used; the lock shown here is for the "L" keyway. Pins for SFIC locks are slightly smaller than those used in conventional cylinders, and tolerances are comparatively tight. A variety of depth systems are used, supporting up to 10 distinct bitting heights per pin position with no MACS restriction. This allows up to 10,000,000 distinct keys per keyway (although there are effectively fewer in practice, due to tolerance errors and phantom keys in master systems).

Image taken with a Nikon D-100 digital camera with a Nikkor 85mm 1:2.8D tilt/shift macro lens (with Kenko extension tube). Lit by electronic flash and various reflectors.

Copyright © 2003 by Matt Blaze. All rights reserved. You may not copy, modify or use this image for any commercial or non-commercial purpose without permission.

Click here for the index of Best SFIC lock photos.

Click here for my home page.